About The Golden Group - Who We Are
If you enjoy chamber music, you'll like working with The Golden Group. A jewel of an ensemble, each associate has a unique skill set, each representing different areas of experience and expertise. Together, our work results in the harmony of increased organizational capacity and financial stability.

Here are the players:
| | |
| --- | --- |
| Principal Susan L. Golden, Ph.D. brings over 30 years of professional experience to organizations' fundraising challenges. Susan has worked with 150 organizations in all sectors, involved in raising over $780 million. She has taught fundraising and grant seeking for graduate programs in nonprofit management both locally and nationally. She is widely respected as an author of a column in Contributions Magazine and a best selling book published by Jossey-Bass Publishers (CA). She holds a Ph.D. from Duke University, and a B.A. magna cum laude from Case, where she was elected to the Phi Beta Kappa Society. A native Clevelander, Susan understands the dynamics of Northeast Ohio. | |
Attorney Nancy L. Griffith provides gift planning expertise for individuals and families as well as legal counsel for nonprofit organizations. Nancy has worked in planned giving with the Cleveland Orchestra, the Cleveland Music School Settlement, the Cleveland Clinic Foundation and a number of other nonprofit organizations. Nancy has deep experience in fundraising and nonprofit management, and brings a keen and creative legal mind to develop solutions to the most complex and challenging situations of both individuals and organizations. She holds a Juris Doctor from CWRU School of Law, magna cum laude, Order of the Coif and has served as President of the Northern Ohio Planned Giving Counsel.
A principal in Bauer and Griffith, LLP, Ms. Griffith and her colleague Stacy Bauer, provide counsel.
Prospect Researcher Catherine Smythe Zajc is an award-winning professional in the field of information services and prospect research. Catherine has been employed by Baldwin-Wallace College and WVIZ-TV in addition to working with a number of organizations as a consultant. Her customized research is informed by her sensitivity, adherence to the highest ethical standards, and a thorough understanding of effective fundraising practice. Prior to her work in fundraising, she worked in information services for the National Sports Daily (NY), for Time, Inc. Sports Library (NY), and the White House Library & Research Center (DC). Her education includes a graduate degree from Syracuse University and undergraduate degree from Westminster College (PA).
Cynthia L. Rahn, Economic Impact Analyst, is the developer of a unique, rigorous approach to forecasting economic impact, a critical component of government grant applications. A chemical engineer by training, Ms. Rahn has over 20 years of experience in marketing in the chemical industry, having worked in for BFGoodrich, Dart & Kraft, Union Carbide and E. I. DuPont de Nemours. She has been involved in marketing training with the Center for Families and Children, NASA, Case Western Reserve University and other community organizations. She holds an Executive MBA and has completed the coursework for a Ph.D. in marketing at CWRU's Weatherhead School of Management.
Jack A. Licate, Ph.D., Government Relations Counsel, represented the Cleveland Clinic Foundation for 10 years, and prior to that led the Greater Cleveland Growth Association (now the Greater Cleveland Partnership) for 13 years. The author of 33 published articles and two books, Jack is currently working an a book on healthcare for the Cleveland Clinic Press. Dr. Licate's experience includes raising $79 Million of the $225 Million capital campaign for The Cleveland Clinic in the 1990's, a stunningly successful campaign which achieved 14 percent more than the goal a year ahead of schedule. Jack spearheaded public-private sector advocacy campaigns at the state and federal levels, bringing Cleveland over $1.6 billion in new environmental, science/technology, research and development, and infrastructure funds. Since his retirement from the Cleveland Clinic Foundation, Jack has provided government relations and fundraising counsel to a number of nonprofit organizations. His public affairs engagement includes his service as a gubernatorial appointee to the Ohio Commission on Biomedical Research and Technology Transfer and on the Cuyahoga County Planning Commission/Solid Waste Planning Committee (four terms). He holds a Ph.D. from the University of Chicago as well as a certificate in managing institutional advancement.
Healthcare Marketing Consultant Nadine A. Bendycki has worked for The Cleveland Clinic Foundation, Blue Cross and Blue Shield of Ohio and has provided consulting services to the American Red Cross – Greater Cleveland Chapter, Yale New Haven Medical Center as well as a number of hospitals and healthcare consulting firms. A three-time advertising award winner, Ms. Bendycki has extensive experience facilitating focus groups and conducting competitive analyses as well as other kinds of market research in the healthcare arena. Ms. Bendycki's gifts include the ability to translate highly technical information into information which is easily accessed by a lay audience. She has published in Marketing Healthcare Services as well as in journals of anthropology and mental health. Ms. Bendycki's community service includes the presidency of a 200+ family religious congregation and board leadership in health-related organizations. A member of the Phi Beta Kappa Society, Ms. Bendycki's education includes a master's in cultural and medical anthropology and a B.A., magna cum laude.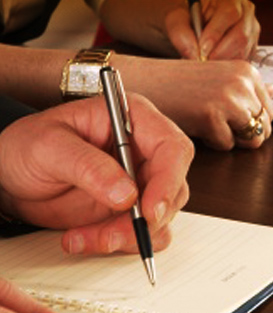 Latest News